VibCalc
Knowledge desk
Vibration calculator
Install Wilcoxon's VibCalc conversion calculator program directly to your desktop!
Set your preferences to metric or English for future conversions. Enter acceleration in g's and see velocity in in/sec or displacement in inches or mils, and more. Temperature conversions, frequency from Hz to cpm, and many other conversions are possible. Use the HELP menu as needed and find even more helpful conversions.
Wilcoxon acknowledges the work completed towards this program by Jon Chandler of DLI.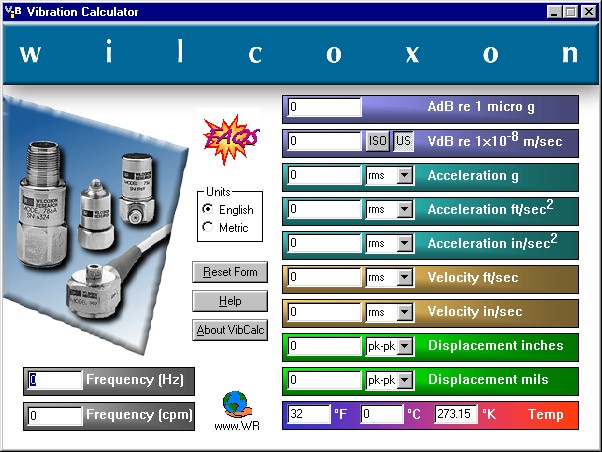 Get a glimpse of the calculator.
Download it now
2,415K download

Download instructions
Click on the 'download it now' link, above, and download the .zip file
Unzip the file (if your system doesn't unzip it automatically)
Launch the .exe file (if your system doesn't launch it automatically)
Select "Run this program from current location"
Click "yes" when it prompts with the security warning
The program will download and install itself.
System requirements