Wilcoxon Releases Low-Profile, Integral Cable Accelerometers
Wilcoxon Sensing Technologies, an Amphenol company, has launched the SM series of integral-cable, side-mount sensors. This budget-friendly line of accelerometers is designed for condition monitoring of rotating equipment in tight-clearance installations, aggressive environments, or submerged locations.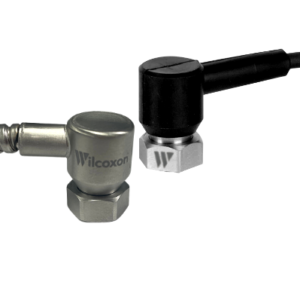 The novel pivoting mounting base of the SM series was engineered for ease of installation, even in hard-to-reach spaces. It allows for sensor installation in any orientation - the user can turn the sensor 360° and tighten the base when the ideal mounting orientation is achieved for minimal cable strain. A demonstration video can be viewed at https://youtu.be/X0iofgGweRI.
Unlike integral cable vibration sensors with a captive screw, the pivoting mounting base does not add to the height of the sensor or require clearance above the sensor to tighten the screw in place. At about 1" high – the SM102 is 0.98" (24.9 mm), and the SM103 is 1.01" (25.5 mm) – SM series accelerometers are among the lowest profile general-purpose, side-exit vibration sensors. They can be installed in tight locations, such as the gap between the machine bearings and the outer case, between a submersible pump and the protective shroud, or beneath machine guards.
Like other "general purpose" industrial IEPE accelerometers, the SM series of side-exit vibration sensors have a sensitivity of 100 mV/g with a tolerance of ±15% and a full-scale measurement range of 50g. The wide frequency response of 0.5 - 10,000 Hz and a resonance frequency of 25 kHz make it ideal for condition monitoring of most rotating production assets, such as pumps, fans, motors, and gearboxes, where high-frequency components may be particularly close to coupled machinery. It has an operating temperature range of –50° to +120°C. See the complete specifications on Wilcoxon's website at https://wilcoxon.com/newproducts/sm100-series-sensors/.
SM series sensors have a 10' standard, integral, shielded, twisted-pair cable, or they can be ordered to customer-specified lengths. The SM102 accelerometer, with a molded connector and polyurethane jacket cable, is rated IP68 for waterproof operation in wet applications, even at continuous submersion at greater than 1 m deep. It is recommended for Water & Wastewater, Food& Beverage, and other industries where production assets are wet or submerged. The SM103 accelerometer, with a polyurethane jacket and stainless-steel armor jacket, is IP67 rated for submersion up to 1 m. The armor protects against cable damage in aggressive environments, such as metal processing, mining, and machine tool applications where the low profile avoids interfering with the spindle.
For more information about SM series accelerometers, contact Wilcoxon Sensing Technologies at [email protected] or +1 301 330 8811.